Chelsea the latest gossip
Up The Blues
Terry still the best in Premier League?
After John Terry signed a new deal at Chelsea, Adam Bate explains why the 34-year-old may well still be the Premier League's best defender.
"He remains England's best in his position," claimed Sky Sports pundit Jamie Carragher in his Daily Mail column last year. The former Liverpool defender was praising his old rival, but in truth he was understating when it comes to John Terry. He could have gone further.
The accepted wisdom in recent times, certainly until this season, has been that Manchester City's Vincent Kompany is now the Premier League's best defender, but Terry's consistency makes for a more compelling case. And if the World Cup was a showcase of the best that defending has to offer then it didn't bode too well.
As for England, Roy Hodgson's first-choice centre-back is Terry's club-mate Gary Cahill. It's a comparison that flatters the younger man. According to Opta, Terry has made more blocks, tackles and headed clearances than Cahill - and, unlike his defensive partner, has made no errors leading to goals in this season's Premier League.
It raises the uncomfortable notion that the three-time Premier League winner might actually be underrated. He is, after all, the only defender in the last 20 years to win the PFA Player of the Year award, and it seems fair to assume that only off-the-field issues have prevented his inclusion among his peers' team of the year for much of the past decade. "I just feel that the way he is viewed obscures his playing qualities," says Carragher.
Distribution
Terry wouldn't be the first English defender to be dismissed as one-dimensional due to his reputation as a robust presence befitting the nation's desire for a warrior centre-back. Tony Adams was called a donkey when he was a perfectly competent passer, so by comparison the silence when it comes to Terry's ability on the ball ought to be regarded as a ringing endorsement.
Of all the players at Chelsea to have started at least five games this season, not one can better Terry's passing accuracy of 89.44 per cent. That number is particularly impressive given his range of passing.
"His ability on the ball never gets spoken about," says Carragher. "How many defenders in world football can switch the play with their weaker foot?"
Better with age
While the passing continues to impress, other aspects of Terry's game are even improving. There was a period when he had to adapt his game and the body suffered as a result, but Terry is ever-present in the Premier League this season and has added more to his game than has been lost.
"He plays in a position where age doesn't make a huge difference," Chelsea manager Jose Mourinho told The Guardian last season. "It's a position where players rely more on positioning, on reading the game, and being in the right place at the right time. Experience helps."
Leadership
As a result, Terry remains as important as ever. While some have questioned that off-field influence, on the pitch he remains vital.
"John is a player with a lot of authority," said young goalkeeper Thibaut Courtois earlier this season. "When he's in front of you, he's a real leader in the dressing room and on the pitch."
Indeed, Terry's presence is so essential that Mourinho even axed Courtois in favour of Petr Cech for the midweek game against Everton when he feared he might be without his skipper. "John Terry was ill in the morning and probably out of the game until the last moment so I thought I needed Petr's personality and capacity to communicate."
Future with Zouma?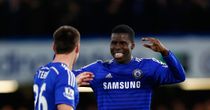 So what's next? On the face of it, the fact that the Premier League tracking data shows Terry has been outsprinted by his centre-back partner in every game so far this season might suggest his physical condition is deteriorating. But as with Paolo Maldini, it also reflects his improved positioning and the way his role in the back line has changed. He is now covering for Cahill.
And so, given the division of responsibilities and with the junior partner turning 30 himself later this year, it could be Cahill not Terry threatened by the emergence of Kurt Zouma. That's certainly been the case so far this season and it's not difficult to envisage the combative Zouma playing Terry to Terry's Ricardo Carvalho in seasons to come.
A new contract has been signed - and it's no less than the captain's performances deserve.
Follow @chelsea_pal
Subscribe to Chelsea Newsin a reader
Headlines for Chelsea this week
Latest Chelsea Fixtures Latest Chelsea Results Latest Table
James Milner will reportedly join Liverpool this summer, Chelsea will attempt to sign Rafael Varane, while Barca are tracking Hector Bellerin.
Chelsea are set to make a shock move for Tottenham striker Emmanuel Adebayor, while Juventus are keen on signing Manchester City's Edin Dzeko.
Eden Hazard reckons Jose Mourinho might have been too hasty in offloading Kevin de Bruyne.
Arsenal are lining up a move for Petr Cech as a potential replacement for Wojciech Szczesny and David de Gea is in no hurry to return to Spain.
After John Terry signed a new deal at Chelsea, Adam Bate explains why the 34-year-old may well still be the Premier League's best defender.
Chelsea defender John Terry has signed a new one-year contract to stay at the club until summer 2016.
Add Your Comments on the Story